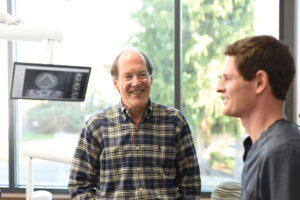 Looking for a Dentist's Office Who Offers White Fillings and Cosmetic Dental Bonding?
Silverdale Dental Center wants to help restore your perfect smile and offers several different treatment options to do so. For those with severe tooth damage or infection, we recommend dental fillings.
For smaller infections and tooth damage, our dental center offers cosmetic dental bonding. Dental bonding is a treatment option that applies a resin color-matched to your teeth to quickly restore your smile.
Dental bonding is a great treatment option for many patients, especially those who need emergency tooth repair or replacement fillings.
Dental Bonding for Emergency Tooth Repair
Dental bonding is great for repairing accidental chipped and damaged teeth. The treatment is very quick, usually only taking about thirty to sixty minutes per tooth.
Except for patients with extreme oral sensitivity, no anesthetic is even required for dental bonding treatments. You'll be able to go right back to school or work the same day with your smile restored thanks to dental bonding!
Dental Bonding To Replace Silver Fillings
In the past, silver fillings used to be the only option, but we are happy to say that now there is a choice! Replacing silver fillings with bonding or tooth-colored fillings is only a phone call away.
Modern dental bonding applies a resin that is color-matched to your teeth, providing a far more natural look over silver fillings.
Other Reasons To Consider Dental Bonding
Emergency repair and replacement of silver fillings are two of the most common situations where we recommend dental bonding. You may also consider dental bonding if you suffer from one of the following:
Peg laterals
Stained teeth
Black triangles
Gaps between teeth
Chipped or worn teeth
Misshapen or crooked teeth
To hide fluorosis or white spots on the front teeth
Common Questions About Dental Bonding: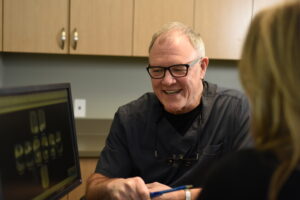 Bonding vs. Veneers: What's the Difference?
Some people make the mistake of referring to dental bonding when they're discussing dental veneers. While they both accomplish similar purposes, we would like to distinguish between the two to help you understand all of your oral health treatment options.
Dental bonding is a quick treatment option for those who require minimal or partial tooth repair. It is primarily used to restore lightly damaged or discolored teeth, though it does provide some functional benefits as well. A resin is applied to your teeth in a quick thirty- to sixty-minute visit and typically lasts five to ten years.
Dental veneers rely on a similar process, but a different material to restore your teeth. Because they're made of porcelain, veneers are better for teeth with more noticeable injuries and do not stain or discolor easily. Dental veneers can last a lifetime, but do require multiple visits.
Please be sure to reach out to our dental team with any questions you may have. We would be happy to help you determine if dental bonding or porcelain veneers are better suited for your teeth.
How Much Is Dental Bonding? What Does Dental Bonding Cost?
Dental bonding, dental veneers, and other dental treatment options all range in price depending on the tooth and the level of care needed. Please contact us to schedule a consultation so we can work with you to find the best treatment option for your budget.
Try Dental Bonding at Silverdale Dental Center
At Silverdale Dental Center, we believe in providing diverse treatments to fit a variety of our patients' needs. We recommend dental bonding as a great solution to chips, cracks, and old fillings in your teeth. You'll restore your smile and protect your roots and gums.
To learn more and find out if dental bonding is the perfect solution for your teeth, contact us today and schedule your next consultation at Silverdale Dental Center!