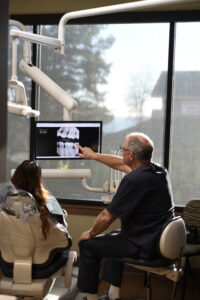 When it comes to achieving a straighter smile, braces are not the only option. The cutting-edge Invisalign® clear braces system is a popular alternative to metal brackets and wires. Invisalign straightens your teeth comfortably, easily, and effectively—without most people even realizing they are on your teeth.
Advanced Invisalign® Treatments at Silverdale Dental Center
If you're looking for a perfect smile, or if you're interested in Invisalign® invisible braces, you've come to the right place. Silverdale Dental Center's all-inclusive, award-winning Invisalign treatments help you accomplish smile improvement goals from the very first consultation.
Invisalign® is quickly becoming the most popular teeth-straightening method for teens and adults. Braces were typically the most common approach to proper teeth alignment, but now Invisalign clear aligners offer an easier method with numerous benefits.
What Is Invisalign®?
The Invisalign system is a series of clear aligners used as an alternative to metal braces; the Invisalign trays are similar to a retainer as they are easily removed and remain virtually unseen to others. The patient wears their clear, custom-fit trays and switches to a new set every seven days to help adjust the teeth at an efficient pace. Patients can enjoy the benefits of teeth straightening without anyone else knowing their secret.
The Invisalign approach is just as effective as traditional braces and provides even more benefits than its metal counterparts. Invisalign® can correct many smile issues, such as:
Overbite
Underbite
Crossbite
Gap teeth
Open Bite
Crowding
Misalignment
Invisalign clear aligners produce exceptional results for patients with a wide variety of treatable orthodontic concerns. Visit Silverdale Dental Center to discover whether this system is right for you.
Invisalign® Benefits
Since Invisalign clear aligners are made of smooth plastic, they will not hurt or irritate the tongue and gums the way that sharp metal braces can. The trays are easily taken out, so patients can enjoy eating and drinking whenever they want during the realignment process. This also means that brushing and flossing routines need not be adjusted to suit the needs of Invisalign®.
Best of all, Invisalign® is a clear alternative to braces that fits seamlessly and discreetly onto the teeth, so that teens and adults do not need to be embarrassed about their desire to have a straighter set of teeth.
Teeth straightening will benefit a healthy mouth in more than just appearance, and teeth realignment is important for multiple reasons:
Straight teeth make brushing and flossing easier, which reduces the risk of plaque buildup.
Straight teeth are healthier, as less plaque buildup decreases the risk of dental disease.
Invisalign aligners can correct your bite alignment, which can reduce headaches, snoring, and jaw pain.
Proper bite alignment ensures even wear of your teeth, protecting their structure and enamel.
Straightened teeth make it easier to speak, chew your food and smile confidently.
Want to enjoy these benefits for a lifetime? Our Invisalign® treatments include the use of a custom-fit retainer so you can maintain a straight and healthy smile long after you finish with Invisalign® clear aligners.
Invisalign® Teen
Silverdale Dental Center is devoted to teaching teens the importance of dentistry procedures and the advantages of keeping teeth in good shape. We offer a warm environment where any former anxiety is eliminated when visiting the dentist. Plus, with processes like Invisalign®, teens will be happy to see results without compromising their appearance or lifestyle.
Jason Niemeyer, DDS, #1 GP Invisalign® Provider
Our highly-skilled staff is led by Jason Niemeyer, DDS, a Diamond+ tier Invisalign® provider, an honor awarded only to the top 1% of practitioners for their outstanding work with this advanced orthodontic system. Dr. Niemeyer provides exceptional Invisalign® results using cutting-edge technology and precise treatment methods.
How It Works
Invisalign clear aligners move your teeth into place with a set of clear aligners designed using digital impressions or scans of your teeth to gradually shift your smile into a new, straighter alignment. The Invisalign system puts comfortable pressure on your smile tooth by tooth, so that throughout your treatment you can watch your teeth move into their proper place.
Your Invisalign treatment will include a set of clear aligners updated every single week to take you closer to a straight smile with every pair. Depending on how simple or complex your treatment is, Invisalign will begin to transform your smile in a matter of months.
Want To Check Out Some Videos on How It Works?
Take a look at a few of the key things you need to know about getting started with Invisalign treatment.
Ready To Get Started? Call Today!
Call Silverdale Dental Center today to schedule your first FREE consultation and discover whether you're a candidate for the convenient, effective Invisalign system.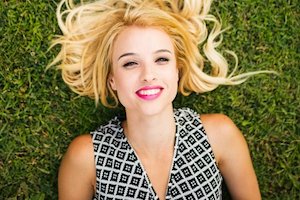 How Invisalign® Invisible Braces Work
Invisalign® is an increasingly popular, advanced orthodontic treatment used to straighten teeth without the use of traditional, metal brackets and wires. This leading straightening system is preferred among adults and teens due to the custom-made, virtually invisible trays that gradually transform your smile by shifting teeth into proper alignment.
In just a matter of months, this treatment can begin to revamp your smile safely and effectively—and without the use of uncomfortable brackets and wires. Contact Silverdale Dental Center today to learn how Invisalign invisible braces can help you achieve the straight, beautiful smile you've always wanted.
Award-Winning Invisalign Clear Braces Treatment
At Silverdale Dental Center, we are dedicated to excellence. Our practice is a Diamond+ Invisalign® provider, the highest tier awarded to professionals with exceptional experience and success.
The skilled providers in our office can let you know if you're an ideal candidate for Invisalign clear aligners, providing industry-leading treatment all along your path to a straighter smile.
The Invisalign® Braces Process
Step One: Design Treatment Plan
Your first step is to schedule a consultation with our experienced providers. At this appointment, we will discuss your smile goals, determine whether the Invisalign treatment is right for you and start your customized treatment plan with 3D digital imaging of your smile.
We take the time to discuss the approximate treatment duration, payment options, and your ideal results.
Step Two: Receive your Custom Aligners and Get Started
Using the virtual images of your smile, you will receive a set of clear, custom-molded aligners made for your unique smile. These clear aligners are formed using comfortable, BPA-free plastic to fit snugly against the teeth.
Invisalign® clear aligners must be worn for at least 22 hours during the day, but they can be removed to eat, drink, and brush and floss your teeth.
Step Three: Change Your Aligners as Needed
Because the system works by gradually adjusting teeth over time, you will have a new set of Invisalign® clear aligners every week. We set up an appointment schedule ahead of time for approximately every eight to ten weeks to ensure treatment is going well and your straightening is on track.
Step Four: Start Sharing Your Stunning New Smile!
The typical timeframe of a complete Invisalign treatment is 6-18 months, although some cases do take longer. Once your treatment is complete, custom retainers will be provided to maintain the straightened teeth and beautiful smile!
iTero Digital Impressions
Getting the impressions to make your Invisalign aligners is easier than ever thanks to the iTero scanner. With this intraoral scanner, we can get accurate, immediate, digital impressions with simple imaging technology. You don't have to sit through the often uncomfortable process of using dental molding clay to get a reading of your teeth. The iTero scanner does all that for us!
Will Invisalign® Clear Braces Work for Me?
Invisalign clear aligners is a treatment solution designed for a wide variety of dental issues. From mild misalignment to bite problems, this system can address tooth crowding, gaps, overbites, underbites, cross bites, and other smile imperfections.
To qualify for Invisalign invisible braces, you must have a good bill of oral health and practice excellent dental hygiene habits. Invisalign® is a flexible, discreet treatment that can correct the large majority of dental misalignment concerns.
Not sure if you qualify? Call our office today to schedule a consultation and discover if Invisalign will work for you.
Will a Straighter Smile Increase My Confidence?
A straight smile can be a huge self-esteem boost! Your smile is one of the first things other people notice about you. With a straight, consistent smile, you're more likely to feel more attractive and self-assured when smiling, speaking, eating, or presenting yourself in public.
Once I Have the Invisalign® Aligners, What's Next?
As soon as your custom Invisalign® clear aligners are in your possession, you should follow the dentist's directions for the most effective treatment possible. The more you wear your aligners, the more successful your treatment will be—and the more likely you'll be to achieve great results on an ideal timeline.
It is important to continue to take excellent care of both your teeth and your new aligners. Practice proper dental hygiene, wear them as much as possible, and attend your follow-up appointments to change aligners on time.
Ready To Get Started? Call Today!
Our privately-owned practice offers exceptional Invisalign treatment with heart-centered service. Schedule your free consultation today and discover what sets Silverdale Dental Center apart as an outstanding Invisalign provider.