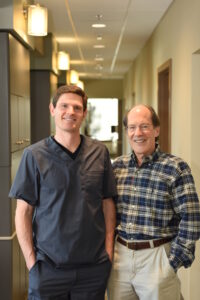 Looking for a proven method for treating gum disease? Silverdale Dental Center can help! We can treat gum disease by attacking the source of the infection and giving you pain relief and healthier gums.
According to the CDC, nearly half of all Americans over the age of thirty experience periodontal disease, otherwise known as gum disease. Gum disease greatly accelerates the formation of plaque, a sticky bacteria that will make effective brushing harder and irritates your gums.
If too much plaque builds up, it can squeeze into the space between your gums and teeth. Not only can this lead to jaw irritation, but it can lead to tooth and even bone loss as well. For those who suffer from severe plaque build-up, we may recommend professional dental scaling and root planing.
What Is Dental Scaling?
Dental scaling is when we use special tools to remove plaque and hard tartar deposits above and below the gum line. This is the first part of the treatment process that will remove the source of infection and greatly lower the risk of suffering from periodontal diseases in the future.
What Is Root Planing?
Root planing is the second part of the treatment process. Our experienced hygienists will go even deeper into the gum line, cleaning out closer to the tooth roots and other hard-to-reach areas.
This treatment provides healing of the gums, reduction in pain, as well as:
Preventing Tooth Loss: If your teeth were loosening because of gum disease, root planing can help your teeth reattach to your gums so you won't have to worry about losing those teeth.
Smoothing Tooth Roots: Smooth tooth roots are much harder for plaque and bacteria to attach to. Preventative care is a huge focus for our dental teams, and smooth root surfaces will further reduce the risk of future infection.
Deep Dental Cleaning vs. Routine Dental Cleaning
We recommend that our patients come in for a routine dental cleaning every six months. Routine dental cleaning, exams, and x-rays, along with proper dental home hygiene will greatly reduce the risk of periodontal diseases.
Deep dental cleanings, consisting of scaling and root planing, are recommended for those with advanced gum infections. Depending on the level of treatment needed, it may require anesthesia during the deep cleaning. The gums and teeth may be tender for up to a week, and they may require pain medication during healing.
Do the following to further reduce the risk of suffering from periodontal diseases:
Avoid smoking.
Floss at least once daily.
Brush at least twice daily with fluoride toothpaste.
Regularly replace your toothbrush as the bristles wear out.
Clean out your mouth with antimicrobial mouthwash at least once daily.
Regularly clean your tongue, especially if you see a gray or white buildup.
Eat a proper, balanced diet. Minimize intake of sugary and starchy foods and drinks.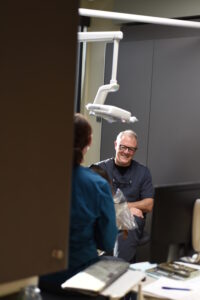 When Should I Consider Scaling and Root Planing?
Several symptoms may indicate you need scaling and root planing. Be aware of the following as you examine your gums and teeth:
Loose teeth
Shrinking gum line
Bleeding from your gums
Deep pockets in the gums
Severe jaw pain or sensitivity
Extreme sensitivity to hot or cold foods
Swollen or inflamed gum tissue
Our dental team will perform x-ray examinations at least every six months as part of your routine checkups and cleanings. These x-ray examinations will help us identify hidden bone loss and deep pockets that may be forming. This is another reason why we recommend routine dental cleanings.
We're also happy to perform a quick examination if you are concerned about your gum health. Contact us today to schedule your next appointment and see if you need a deep dental cleaning.
What Does Scaling and Root Planing Cost? What Does Dental Deep Cleaning Cost?
We individualize our dental treatments based on the health, needs, and budgets of our patients. If you need assistance paying for treatment, we have options for you!
While deep dental cleanings are more extensive than routine cleanings, there are flexible payment options that we will always present to you ahead of time. It's extremely important to us that we provide affordable treatments to help those who suffer from periodontal disease.
Please reach out to us so we can discuss treatment options best suited for your oral health.
For Gum Disease Treatment That Can Save Your Smile and Help You Feel Better, Call Our Dental Office Today!
Periodontal disease is very common among Americans, but there are great treatment options that will quickly alleviate your pain. Scaling and root planing will clear out bacterial buildups while making sure your mouth is less likely to suffer from infections in the future.
Schedule your appointment to preserve your smile here at Silverdale Dental Center!