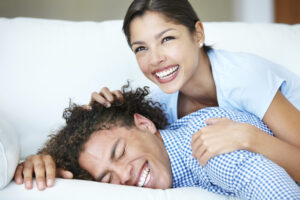 If intense snoring keeps you or your partner from getting enough rest, it can feel like you might be doomed to a life of sleepless nights. While it's often harmless, snoring can signal an underlying medical condition, such as nasal blockages, chronic allergies, or, more seriously, sleep apnea.
NightLase is a quick, non-invasive treatment designed to minimize snoring in people with sleep apnea and significant nighttime airway obstruction. This treatment offers an alternative to other surgical procedures, oral devices, and CPAP machines, providing an effective, long-term solution to burdensome snoring.
The Non-Surgical Treatment To Stop Snoring and Sleep Apnea
Snoring has many explanations, but it's very often caused by airway obstructions. The soft tissues of your mouth, throat, and jaw, when relaxed, can block the flow of air and cause these tissues to vibrate and produce loud snoring sounds that can keep your roommates or bed partner awake all night long.
To treat this tissue laxity, we use the NightLase LightWalker® laser to firm up the soft palate and tissues of your airway, which in turn diminishes snoring or, in some cases, eliminates it entirely. The NightLase procedure holds a number of advantages over other surgical procedures:
Quick and easy
Safe and painless
Prompt results
Affordable and accessible
Long-lasting effects
The LightWalker® laser especially helps the NightLase treatment go smoothly and comfortably. The LightWalker uses high-powered industry level dual lasers to give even more treatment levels. Patients who choose NightLase to increase the quality and duration of their sleep can enjoy a noticeable reduction in snoring and night after night of improved sleep from their very first appointment.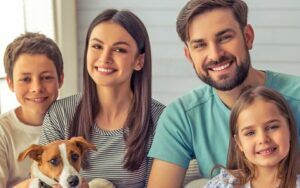 What Is NightLase® and How Can It Help Me?
NightLase is a revolutionary procedure that can be performed in under an hour and requires no anesthesia during the treatment. There is no downtime to heal, and patients can expect to resume their normal activities immediately after the procedure, including eating, drinking, and talking.
The NightLase treatment has been shown to reduce snoring by up to 50% after the first procedure and can get rid of snoring completely in many patients for up to two years following the first treatment. At Silverdale Dental Center, we have helped many patients boost their quality of life by restoring their ability to achieve restful sleep through NightLase laser therapy.
How Does NightLase Work?
Lax and loose muscle tissues can become even more relaxed when you fall asleep, which blocks your breath and often leads to loud or intense snoring. NightLase is a patient-friendly procedure that uses mild, heated lasers to target tissues surrounding the airway, tightening and firming the soft palate and tongue.
At Silverdale Dental Center, we use the LightWalker laser in our NightLase therapy which uses a dual laser system for expanded treatment options and wavelength levels. The result is a more reliable, more comfortable experience for you. The LightWalker's built-in scanner function also helps us work clearly and see your results quickly.
When the treatment is complete, patients enjoy a clearer, more open airway—and a substantial reduction in nighttime snoring.
What Is a NightLase Treatment Like?
NightLase treatments at Silverdale Dental Center are simple and straightforward:
Step One: We start by asking you a few questions about your sleep patterns and conducting an evaluation of your health to determine if you're an ideal candidate for NightLase treatments.
Step Two: At your next appointment, you will start the first of three NightLase treatments. Each procedure involves preconditioning, in which the laser preheats your soft tissues, and a tissue-strengthening treatment to tighten the area.
Step Three: Over the course of the next six weeks, you will undergo the same two-step laser therapy procedure two more times. Each treatment will further strengthen and open your airways, reducing snoring by up to 100%.
Should the effects of NightLase therapy begin to wear off after one year, we can perform another session to maintain your results and help you retain your ability to get a good, uninterrupted night's rest.
NightLase for a Good Night's Sleep
If you suffer from the consequences of interrupted sleep due to snoring or sleep apnea, NightLase can be an incredibly valuable treatment solution. Our patients report a host of benefits following treatment, including a major reduction in daytime fatigue, fewer mood swings, happier relationships, and an overall better quality of life thanks to deeper, more restful sleep.
Ready to learn more about how NightLase can help you to improve your ability to sleep without invasive surgery, medical machines, or mouth devices? Contact Silverdale Dental Center to get started.
Get Ready To Feel Great With NightLase—Contact Our Office Today!
Call us at Silverdale Dental Center to schedule your first appointment and discover how the NightLase LightWalker treatment can eliminate your troublesome snoring and sleep apnea symptoms.