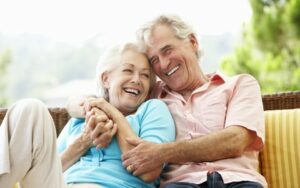 Are you missing multiple teeth? We care deeply about our patients who are missing teeth because it can make life more difficult. That's why we offer fixed implant bridges, so you can eat, speak, and smile again as soon as possible.
An implant dental bridge can replace two or more teeth in a row. Plus, you'll be able to keep your dental implants for life.
If you need a tooth replacement, contact us at Silverdale Dental Center. At our practice, you'll experience heart-centered service that goes above your expectations. Call now.
Traditional Fixed Bridge
An implant-supported bridge is not the same as a traditional bridge. Here's how a traditional bridge works:
A bridge is a short dental appliance that holds one or more new teeth to bridge a gap in your smile.
It's held in place by the dental crowns at each end of the bridge. Those end teeth are placed over your natural teeth on either side of the empty socket and cemented there.
Unfortunately, we have to grind down your natural teeth a bit to place the dental crowns and keep the bridge in place. Of these two tooth replacement options, this takes away some of the strength of your natural teeth.
Dental Implant-Supported Bridge
Implant-supported bridges are crucially different from traditional bridges. Instead of being supported by your natural teeth, these bridges are independent. How?
We use the dental implant process to place new (titanium) tooth roots under the bridge. Each tooth implant is as strong and permanent as a natural tooth root.
We customize your bridge's color and shape to look great in your smile.
Then, your dentist attaches your custom bridge to your implants.
Your finished bridge will be connected directly to your jaw through the dental implant.
This leaves your other natural teeth free—we don't alter them at all to place a bridge. That's great for your dental health: We can work on your nearby teeth independently of the bridge.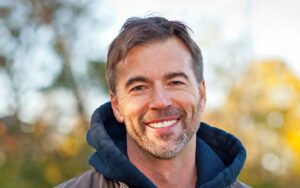 Benefits of Fixed Implant Bridges
At our Silverdale dental office, we not only fix your immediate issue but also guard against future issues—also known as preventive dentistry.
Fixed implant bridges are a comprehensive solution that gives you a new tooth immediately and protects your other teeth and your health for the long term. They offer these advantages:
Tooth Strength: We don't have to change nearby teeth, which keeps them stronger and longer.
Life-Long Solution: The implant procedure should give you new tooth roots for the rest of your life—usable for implant-supported dentures and other appliances.
Jaw Health: Implant surgery stimulates and strengthens your jawbone!
Stable Teeth: Implant bridges feel as stable as natural teeth. Plus, a bridge helps keep your other permanent teeth in their best positions, protecting your whole smile.
Caring for Your Fixed Dental Implant Bridge
It's very easy to take care of your dental bridge! Since it's fixed in place, you'll just brush and floss all your teeth as you normally do.
Plus, you'll be able to eat your favorite foods without worry.
Remember, the best dental care you can perform at home is brushing with nonabrasive toothpaste twice a day—and flossing at least once a day.
The only other step is to come back to our dental practice for hygiene appointments.
Fixed Bridge Cost vs. Dental Bridge Cost
Traditional Bridge: The cost of building a traditional dental bridge includes the bridge fixture itself, plus the cost of each dental crown used in the total restoration. Because a traditional bridge uses multiple crowns, that cost alone can add up. These bridges also don't last as long as implant-supported bridges, and you may have to replace them.
Implant-Supported Bridge: The cost of an implant-supported bridge includes the cost of the dental implant and surgery, plus the cost of the dental crown and abutment restored on top. Implant-supported restorations last so much longer—most patients never have to replace their implant bridge!
Schedule Your FREE Dental Implant Bridge Consultation
Get in touch with the dentist office near you that believes in heart-centered dental services. We care about the highest quality of dentistry for our friends and neighbors in Bremerton, Silverdale, Poulsbo, Port Orchard, Belfair, Seabeck, Bangor, Sequim, Port Hadlock, Port Ludlow, Bainbridge Island, Suquamish, Kingston, Port Gamble, Quilcene, Hansville, Port Townsend, Chimacum, and Brinnon, and other communities.
If you're missing a tooth, let's restore your smile as soon as possible with a fixed implant bridge.
Call Silverdale Dental Center now for a FREE consultation.