No one wants a dental emergency, but we can form a simple plan for it, just in case. At Silverdale Dental Center, and we have dentists available by phone in the evenings or weekends to get you through dental emergencies.
Any time you or a family member suffer from dental pain or damage, contact us immediately! You might have:
Dental pain
A broken tooth or teeth
A tooth that's been knocked out
Chipped teeth
Facial injuries
Other issues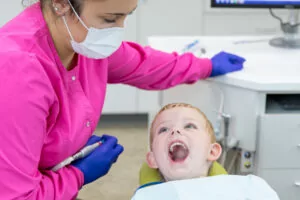 You don't even need to be sure it's an emergency dentistry issue. You can call us anyway, and we'll be able to talk you through the issue.
Call Silverdale Dental Center any time you have an emergency dental need, even after business hours. We recommend placing our number on your fridge or desk and even adding it to your phone.
Find Your Emergency Dentist Office in Kitsap County
Silverdale Dental Center has served the west side of Puget Sound for almost 50 years. We'll be here for you when you need an emergency dentist or a general family dentist.
We always have a few appointment slots ready for emergency dental care. Our seven dentists have decades of experience in treating almost any type of emergency issue that you have.
The moment that you have unusual pain or experience damage to a tooth, gums, or facial structure, you can contact us. You don't have to wait! We're still happy to talk with you, even if the issue turns out not to be an emergency.
Same-Day Emergency Dental Clinic and Dental Care
Many urgent dental issues require immediate emergency dental treatment. We want to intervene as your emergency dental office so that issues can be resolved quickly, not get worse, and stop causing pain.
Our dental practice is prepared for emergencies with top-of-the-line dental devices, such as digital dental x-ray scanners, for diagnosing problems accurately. We also use quality tools and materials for:
Filling cavities
Repairing and replacing teeth
Cleaning infections from the interior of teeth
Fixing broken dental appliances
Healing your gums
Much more
When you call with an emergency, our goal at Silverdale Dental Center is to restore your dental health as soon as possible with quality, efficient dental services—in a patient-first, heart-centered environment.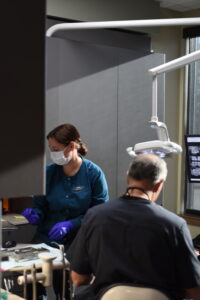 How Do I Know If I Have a Dental Emergency?
We're always happy to receive your call, whatever dental issue you have. If you're curious, though, here are some of the common issues we treat during an emergency dentist appointment:
Knocked out Tooth: We move quickly to replace a lost tooth and repair nearby tissues and other teeth. Bring the knocked-out tooth with you, if possible.
Cracked Tooth: An accident can crack the tooth surface or even the internal structure. Let's close the crack before it spreads.
Chipped Teeth: A piece of a tooth sometimes chips off. Even if it's not painful, your dental specialist should examine it to prevent more damage to your tooth.
Problems With Fillings: An old filling might loosen or fall out. This might not seem like an emergency, but it leaves you vulnerable to infection.
Problems With Crowns: A dental crown, or tooth cap, can become damaged or detached. At the dentist's office, we have the tools to quickly repair a crown and re-bond it to your tooth.
Broken Braces: Broken brackets and wires can damage soft tissues in the mouth. Let's quickly repair your braces.
Wisdom Tooth Issues: Painful wisdom teeth sometimes lead to infections, swelling, and other problems. Your dentist will assess your wisdom teeth and recommend the next steps.
Pulpitis: This is an infection of the tissues inside a tooth root, which can cause mild to severe pain. It's sometimes reversible, or we can remove the infected tissues in a short procedure.
Abscess: This is a painful swelling caused by infection, either in or near a tooth. We may need to clear up gum disease or repair a damaged tooth.
What Should I Do If. . .
A tooth has been knocked out? Gather the tooth or broken pieces and store them in a container of water or milk. Stop any bleeding with gentle pressure with a clean cloth.
I have a severe toothache? Call us immediately for an appointment, then use over-the-counter medication to manage pain. Also, try a therapeutic ice pack on the painful area.
My jaw is severely injured or broken? Call 9-1-1 for emergency medical care.
Come To Our Dentist's Office for Excellent Emergency Dental Care!
Whether you need a family dental practice for minor damage or major services from an emergency oral surgeon, our dentists in Silverdale can serve you.
Remember, we offer sedation dentistry at our family dental practice, helping anxious patients get through services comfortably.
We have emergency dental appointments available each day. Call Silverdale Dental Center to set up an emergency visit. Don't worry if it's after business hours! Let's talk now to relieve your pain.