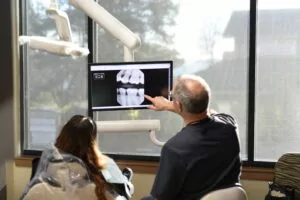 Your Emergency Dentist Office in Silverdale
Silverdale Dental Center is proud to be one of the best emergency dental offices for those in the Kitsap community. We welcome emergency patients and reserve several openings each day to always be able to accommodate urgent last-minute appointments. You don't plan for emergencies, but we do!
We routinely have patients come to us from Bremerton, Poulsbo, Port Orchard, Belfair, Seabeck, Bangor, Sequim, Port Hadlock, Port Ludlow, Bainbridge Island, Suquamish, Kingston, Port Gamble, Quilcene, Hansville, Port Townsend, Chimacum, and Brinnon.
For our young and old patients alike, we promise rapid relief and affordable solutions to restore your smile and relieve your oral pain.
Emergency Dental Clinic and Dental Care
There is no need to wait for an available appointment when you have an emergency! Please call us as soon as you're able, and we will speak to the dentists to find the first available time for you to come in. We keep time slots available every day just in case an emergency arises.
In every case, we strive to make treatments as quick, safe, and effective as possible. First-time patients can further reduce the time they have to spend waiting at our offices by filling out their health history form ahead of their appointment.
Visit this link to download our dental history and health forms for adults.
Visit this link to download our dental history and health forms for your children.
How Do I Know if I Have a Dental Emergency?
Dental emergencies come in all shapes and sizes. From swollen or bleeding gums to damaged teeth, here are a few of the most common emergencies our dentists see:
Lost or broken dental appliances or dentures
Crowns or fillings that have broken or fallen off
Bleeding gums
Swelling in the cheek and or gums.
Painful sores that don't go away
Misfitting dentures or appliances causing sore spots
Broken, chipped, or cracked teeth.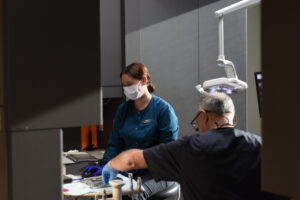 Cracked Teeth
Cracked teeth are an emergency because they can be painful and cracks can leave the tooth vulnerable to infection. There are different levels of cracks that can occur in a tooth, and we have solutions for all of them.
Simple Crack:
The majority of cracked teeth can be treated by the placement of a crown on the tooth. When the tooth is prepared for the crown and a temporary crown is cemented, the pain is usually eliminated. If you experience no significant pain while wearing the temporary, your permanent crown will likely be a successful solution.
Complex Crack:
Occasionally, root canal therapy is required before getting a crown because of the complex nature of the crack into the nerve. If pain persists after placement of the temporary crown, you may have a deeper crack requiring a root canal before the permanent crown is cemented. Root canal therapy usually requires one or two additional appointments.
Vertical Root Cracks:
Some complex cracks are vertical and travel down tooth roots into the bone. These cracks are not restorable and require extraction of the affected root or the entire tooth. Unfortunately, vertical root cracks are difficult to diagnose.
Signs and Symptoms of a Cracked Tooth:
Pain while chewing
Pain when eating cold foods
Pain when eating hot foods
Pain while eating sweets
Spontaneous, unsolicited pain
No apparent decay is present
No apparent x-ray evidence is present
Having a cracked tooth can be a very painful experience. Cracks develop over a lifetime of heavy use and especially when teeth are subjected to the stress of chewing hard foods, ice, or biting on unexpected hard foods like popcorn kernels.
The most susceptible teeth are molars and bicuspids because they are subject to heavy wear and have a larger surface area. People who clench their teeth excessively can crack unfilled and otherwise healthy teeth. Painful, incomplete cracks are sometimes difficult to diagnose, but once a section of tooth breaks off (complete crack) the diagnosis is obvious.
What Should I Do If…
A Tooth Has Been Knocked Out?
If your adult tooth has fallen out for any reason, attempt to follow these steps:
Pick up the tooth by the crown and gently wash it. Do your best to avoid touching the roots of your tooth. Gently use water to disinfect and clean the tooth. Do not use soap, toothpaste, or other chemicals when cleaning.
Attempt to place your tooth back into its socket. If your tooth is whole, it may be possible to reinsert it back into your gums. Do not attempt this with chipped teeth. Do not try to force your tooth back in either, especially if reinserting causes intense pain.
Keep the tooth moist and head for our office right away. Make sure your tooth stays moist. If you could not put your tooth back in your mouth, place your tooth in a cup of milk. Do not place it in a cup of tap water or attempt to wash it with soap, as extended submersion will destroy the roots.
I Have a Severe Toothache
Toothaches can be a sign of the following conditions:
Infection
Decay
Abscess
Cavity
If you're experiencing tooth pain that lasts more than a day or two, schedule a visit with us.
To help with the pain, you can take some anti-inflammatory medications and use an ice pack on and off throughout the day.
Depending on the cause of the pain, toothaches can be treated with:
Antibiotics
Root canal therapy
Cavity fillings
Extraction
Our dentists can help determine what is causing your tooth pain and prescribe proper treatment and medications when necessary.
Your Jaw Is Severely Injured or Broken
Severely injured or broken jaws require immediate medical attention. Go to the emergency room first thing as they are better equipped to handle broken jaws. Once your jaw is healed, we can work on any teeth that may have been knocked loose or broken by the accident or injury.
Second Opinion Expert
If you're concerned about dental treatments suggested by other practices, Silverdale Dental Center is happy to provide a second opinion. Please feel free to contact us if you would like a quick second opinion from a trusted dental practice here in the Kitsap community!
Come To Our Office for Excellent Emergency Dental Care!
Whether you just need a quick second opinion or major emergency oral work done, Silverdale Dental Center wants to be your go-to dental option. Our team of trusted dental practitioners is always prepared to treat all types of dental emergencies.
Silverdale Dental Center accommodates urgent same-day appointments for dental emergencies. We want to accommodate your needs and take the stress out of emergencies. Contact us today for emergency care at Silverdale Dental Center! We treat children and adults nearly every day who have dental emergencies.