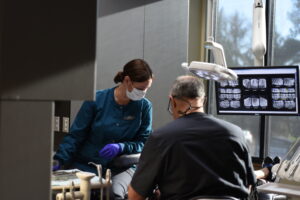 Silverdale Dental Center offers all of the general dentistry services you need to improve and maintain your smile. Below, you'll find just a brief overview of some of the services we have to offer. If you have pain due to decay or infection, our doctors will provide you and your family with high-quality treatment to protect and improve your oral health.
If you would like to learn more or speak to a dentist about individual services, please be sure to contact us today by visiting this link!
Extraordinary Dental Care
When choosing a dentist for your family, you want a practice that can perform a wide variety of treatments and makes your whole family feel comfortable and cared for. That's Silverdale Dental Center to a T!
At Silverdale Dental Center, we offer amazing benefits:
Heart-Centered Care: We mean this literally and metaphorically! Your whole body is connected—your mouth, your heart, and your health—we hope to help them all!
Comprehensive Treatments: Get all the services you need in one place! Because Silverdale Dental Center has multiple doctors and specialists, this allows us to treat and collaborate together; ensuring excellent communication, planning and treatment.
Exceptional Staff: At Silverdale Dental Center, we work hard to create a culture of friendly professionalism to let you know you're in good hands throughout your entire appointment.
For our first-time patients, you can provide your dental history as soon as you visit our offices. You can also greatly cut down on the time you have to spend during your visit by filling out a patient form ahead of time!
Your General Dentistry Checkup
The first step in our dental care process (before treatment or hygiene) is an initial comprehensive dental exam, and full-mouth x-rays. This includes a thorough dental and periodontal (gums) examination, head and neck screening, and an in-depth review of your medical and dental history. This allows the dentist to not only understand your baseline, but create a measurable treatment pathway.
X-Ray Examination
During your initial visit to our Silverdale Dental Center office, we will take a set of full-mouth x-rays as part of our comprehensive dental exam. Dental x-rays provide an overall picture of the teeth, bones, and surrounding soft tissues.
They also provide important information about possible dental problems that are not visible during a surface-level dental exam. Many important developments and changes to your mouth cannot be seen with just the human eye—which is why these x-rays are so important.
With the aid of your x-rays, we will be able to detect:
Tooth decay hidden between teeth
Infections, such as abscesses or cysts
Periodontal (gum) disease
Impacted teeth & some types of tumors
Damage to bones supporting the teeth
Whether a child's teeth are coming in correctly
X-rays can also be used to plan treatments for:
Extensive cavities
Root canal surgery
Placement of dental implants
Difficult tooth removals
After the first set of x-rays is taken during the dental examination, the frequency of x-rays entirely depends upon each patient's unique needs.
Children may need x-ray examinations more often than adults because their teeth and jaws are changing and developing as their permanent teeth come into place.
Safety of X-Ray Examinations
Today's standard precautions and advances in x-ray equipment protect patients from receiving unnecessary radiation and ensure that routine radiographs are very safe. The radiation ee during dental x-ray exams is extremely small and, more importantly, the benefit of having these images far outweighs the risk.
An Important Note for Pregnant Patients:
Before the x-ray portion of your exam, let the assistant know if you are or might be pregnant. If so, our dentist may hold off on your dental x-rays to reduce radiation exposure to your developing baby.
If dental x-rays are absolutely necessary (due to pain or an emergency), a lead apron will be placed over your abdomen to shield your baby from x-ray exposure.
Cleaning and Dental Exam
During a routine dental appointment, we'll professionally clean and polish your teeth, then perform an in-depth dental exam; this is to ensure we stay up to date with your oral health and any changes that may occur.
After we evaluate your x-rays, we'll physically check for the following during an examination:
Cavities & fractured teeth
Broken or missing fillings
Teeth that are improperly aligned
TMJ (temporomandibular joint) alignment
Oral cancer screening
If we see anything that concerns us, we'll recommend treatment options for you and get your next appointment scheduled.
Oral Cancer Screenings
As part of our regular examinations, our dentists regularly check for signs of oral cancer. These symptoms typically consist of the following:
Loose teeth
Severe mouth pain
Large growths or lumps in gums or tongue
Abnormal red or white patches
If you suffer from or have noticed any of the above symptoms, please reach out to our team of dentists for an oral cancer screening.
Periodontal Gum Disease Treatment
Silverdale Dental Center regularly examines and treats gums during each patient visit, and does so by checking for the following:
Areas of food impaction
Loose teeth & receding gums
Gum abscesses and other infections
Swelling, blood, and pus around gums
Depth of the gum collar around the teeth to determine periodontal health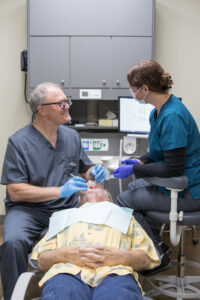 Our Friendly Dental Clinic Offers Many Excellent Dental Services
If you need or want any other care after your regular cleaning and exam are complete, we offer many other cosmetic and restorative services to enhance your smile.
Invisalign® Invisible Braces
Invisalign clear aligners are one of the most effective teeth straightening options for those hoping to avoid traditional metal braces. Comfortable and affordable, Invisalign® invisible braces can lead to a straighter smile in as little as six months!
Tooth-Colored White Cosmetic Dental Fillings
We offer tooth-colored fillings that will improve the look and health of your smile. Through a process called dental bonding, our experienced dentists can also repair damaged or cracked teeth.
Full Mouth Reconstruction
When your smile has been damaged by decay, gum disease, or tooth loss, a full mouth reconstruction can deliver dramatic results. We can give you a complete smile makeover, restoring the function and appearance of your smile and overall oral health with one or more of the following treatments:
Composite fillings, crowns, and bridges
Gum disease treatments
Gum and bone grafting
Dentures and dental implants
All-on-4® treatment concept
Orthodontics
Safeguarding Your Oral Health With Home Hygiene
Our main role as dentists is to protect your oral health. This job includes providing preventative care appointments with cleanings and exams, but it also includes teaching our patients how to best care for their teeth at home.
We Put the "Care" in Dental Care | Schedule an Appointment Today!
Our dental team is committed to keeping the focus on your complete oral health, hygiene and education. We want to help our dental family get treatment as quickly, affordably, and worry-free as possible. Silverdale Dental Center is exceeding expectations and celebrating the positive impact of heart-centered service.
Schedule your next dental appointment today!