If you're looking for a virtually perfect smile for yourself or someone you love, or if you're interested in Invisalign, you've come to the right place!
Invisalign clear braces are quickly becoming the most popular teeth-straightening method for teens and adults. Metal bracket-based braces were typically the most common approach to proper teeth alignment, but now Invisalign clear aligners offer an easier method with numerous benefits.
What Are Invisalign Clear Braces?
Invisalign treatment consists of a series of clear aligners used as an alternative to braces. They are similar to retainers as they are easily removed and remain virtually unseen to others. The patient will switch out their clear plastic, custom-fit aligners every week in sequence to adjust the teeth at an efficient pace.
Patients can enjoy the benefits of teeth straightening without anyone else knowing. The Invisalign orthodontics approach is just as effective as traditional braces and provides even more benefits than its metal counterparts. You'll be able to improve your smile without having to worry about brackets and wires getting in your way while brushing and eating.
Invisalign Clear Braces Benefits
Invisalign clear braces are an invisible alternative to traditional braces that fits seamlessly and discreetly onto the teeth. Teens and adults do not need to be embarrassed about needing braces.
The Invisalign treatment also offers benefits such as:
Reduced gum irritation. Invisalign aligners do not irritate your gums or cheeks like metal braces.
Removable braces. Removable invisible aligners make it easier to eat, brush your teeth, and floss.
Quicker treatment. Invisalign clear braces in most cases offer faster teeth straightening compared to traditional braces.
Reduced risk of gum disease. With removable plastic aligners, bacteria don't have braces to cling to, which reduces the risk of gum disease.
Teeth straightening for everyone. Invisalign orthodontics offers versatile treatments that are great for any stage of life.
Straighter teeth mean a healthier and better-looking smile. Contact us today if you would like to find out if Invisalign orthodontic treatments are for you.
At Silverdale Dental Center We Are a Diamond+ Invisalign Provider
We here at Silverdale Dental Center are especially proud of our Invisalign® Diamond+ provider status. This means that we are more experienced at completing successful Invisalign® treatments than over forty thousand other Invisalign providers.
When it comes to oral hygiene, you want the very best providing care, and we worked hard to be in the top 1% of Invisalign providers.
How did we earn our Diamond+ Status? Diamond+ Invisalign provider status is awarded by the makers of Invisalign braces to dental practices that have completed hundreds of Invisalign cases. Experience is one of the greatest teachers in life, and the Diamond+ status is a testament to our experience.
You're getting a dentist who knows what they're doing when you visit Silverdale Dental Center for Invisalign orthodontic treatment.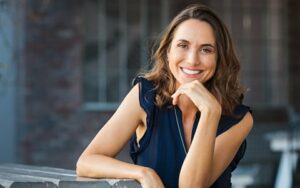 Want To Check Out Some Videos on How It Works?
As Invisalign clear braces continue to grow in popularity, more and more patients are showing dramatic improvements to their smiles thanks to Invisalign. Here are just a few videos demonstrating what you can expect:
Did you know that you can see your finished smile even before starting Invisalign? With our modern scanning and modeling technology, we can show you what your smile should look like after Invisalign. Schedule an appointment today to see how Invisalign clear braces can help you straighten your teeth and find your perfect smile.
Wow! A Whole New Smile in as Little as 180 Days? Now That's Something to Smile About!
One of the great advantages of Invisalign clear braces over metal braces is how quickly you'll see results. Some patients will see noticeable changes in their mouths after just six months of treatment. Compare this to metal braces, which can often take between 18–36 months before they can be taken off.
Teeth straightening will benefit a healthy mouth in more than just appearance, and teeth realignment is important for multiple reasons:
Straight teeth make brushing easier
Reduces the risk of plaque buildup
Lower risk of gum disease
Teeth won't shift and cause wear or bite problems
Get a happier, healthier, and straighter smile with Invisalign clear braces! We can help you stay smiling with the innovative orthodontic technology used to diagnose, plan, and create a unique Invisalign treatment plan.
Ready To Get Started? Call Today!
Silverdale Dental Center is devoted to giving straight teeth to as many people as possible. We can help you and your children get a beautiful, healthy smile with Invisalign clear aligners. Discover your new smile by giving us a call today!