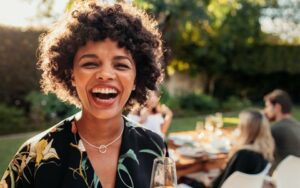 What Are Porcelain Veneers?
A veneer is a thin, custom-made layer of porcelain crafted to fit over the front surface of a tooth to decrease large gaps between teeth or to correct uneven, chipped, or discolored teeth.
Porcelain veneers are an important part of cosmetic dentistry, allowing us to alter tooth position, shape, size, and color. A precise shade of porcelain can be chosen to match your natural teeth. Porcelain veneers can help improve your beautiful smile, which boosts self-confidence and can even prove to be life-changing. Porcelain veneers can help correct:
Peg-teeth
An uneven smile
Chipped or worn teeth
Black triangle closures
Flared or crooked teeth
Extreme cases of fluorosis
Gapped teeth and diastema closure
Discolored or stained teeth, including tetracycline stains
What Are Chairside Veneers?
Chairside veneers are a more affordable alternative to porcelain veneers. A composite resin is fitted to your teeth for a more natural, white smile. Chairside (prepless) veneers are great for patients with teeth that only need a small amount of cosmetic touch-up or who have limited time and money. They can be applied in a single visit!
Another benefit of prepless veneers is that they don't require any tooth preparation before placement. Porcelain veneers are more sturdy because of that preparation, but chairside veneers allow you to change your mind and remove them because no permanent changes have been made to your tooth structure.
How Much Are Porcelain Veneers? How Much Do Veneers Cost?
While porcelain and chairside veneers are affordable dental care solutions, determining which is the better solution will depend on your oral needs. Reach out to us today to schedule a free consultation so we can determine the dental solution that will help you find your perfect smile.
We here at Silverdale Dental Center believe in finding the best dental treatment solution that fits the patient's needs. We also recognize that every patient's needs are different, and the level of treatment required will change because of it.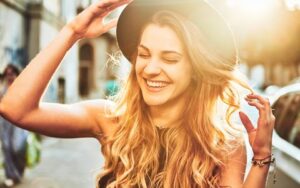 Veneer Process
Preparing Your Smile For Veneers: The application of porcelain veneers can require up to three trips to our office. At your first visit, our dentist will diagnose the need for porcelain veneers and develop a treatment plan. They will examine the current condition of your teeth and help you select the tooth color, shape, and length for your new smile.
Placing Your Porcelain Veneers: During the preparation session, our dentist will remove a small amount of enamel to make room for the veneers and then create an impression of your teeth and send it to a laboratory. A technician will craft the veneers and the laboratory will send back the porcelain veneers to our office within two weeks.
Veneer Fitting: Our dentist will give you a trial fitting so that you may see the fit and the color before the final placement. If you are not satisfied, this is the time to request any changes. Our team will be able to make any adjustments during the fitting so you can be sure you have the smile you're hoping for.
Bonding Session: Once you have decided that the veneers are a perfect match for your smile, our dentist will clean your teeth with bond-aiding chemicals and bond the veneers to your teeth. Finally, our dentist will polish the porcelain veneers and the procedure will be complete.
What To Expect After the Procedure
After placement, your porcelain veneers will be very strong and will be able to resist normal chewing forces. Sensitivity to hot and cold may be experienced after the placement of your veneers, but this is normal and usually goes away within two weeks.
How to Care For Your Newly Placed Veneers:
Regular brushing: Brush and floss, as you did before getting porcelain veneers, with any non-abrasive toothpaste. Veneers don't require any special care—porcelain is resistant to stains, so you don't have to worry about keeping them sparkling.
Night protection: If you clench or grind your teeth, please let our team know. We may fabricate a night guard for you to wear to minimize the stresses placed upon your veneers while you sleep.
How Long Do Veneers Last?
Veneers should last for many years but they can chip or break just like your natural teeth. Small chips can usually be repaired. If a future problem is unfixable, a new veneer can be fitted. You should be able to keep your veneers for 10–15 years, and in many cases even longer.
Brighten Your Smile and Boost Your Confidence With Porcelain Veneers at Silverdale Dental Center!
Learn more about porcelain veneers and book your appointment today by contacting us at this link!