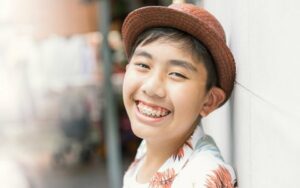 Imagine that you're missing a tooth and you can now go to the dental clinic and have a new one after a single appointment. You no longer have to wait weeks or months. Just contact Silverdale Dental Center and ask about our teeth-in-a-day service.
How Same-Day Tooth Replacement Can Help You
Are you currently missing a tooth—or have a severely damaged tooth you might lose? We truly understand the disruption and frustration a missing tooth can cause. It can be stressful having a missing tooth if you need to:
Go on a big date
Care for family members
Stick with your busy schedule
Give an important presentation
Go to a special event that's been planned for a long time
When you're busy, you don't want your smile to be out of commission for very long. It can pull your focus away from what's most important to you. You need your energy back where it matters.
Imagine, then, being able to go to your dentist at Silverdale Dental Center and get a new tooth in a single visit. You'll be able to chew normally and smile confidently very soon.
Efficient Same-Day Tooth Replacement for Optimal Results
Contact Silverdale Dental Center as soon as possible, and we'll get you the first appointment that we can. If you've been injured, call us for a visit to an emergency dentist at our office.
During a same-day tooth replacement appointment, we'll be placing one or more dental implants. This is the general process:
Scans: The team will capture dental x-rays to be sure your jawbone is ready for an implant.
Exam: Your dentist will perform a checkup of your dental and oral health.
Consultation: If your family dentist recommends a dental implant, we'll discuss it with you and answer any questions—or recommend a different option.
Extraction: When necessary, we can extract a damaged tooth first.
Implant Surgery: The team will place a new tooth root made of durable material, such as titanium.
Tooth Replacement: Before the implant is strong enough for the final crown, we have multiple options for tooth replacement for the short term.
We keep the dental implant steps as short and efficient as possible for our patients who need a new tooth fast.
The tooth placed in this appointment is temporary. It should look good in your smile, but we'll also craft a custom crown to perfectly match and complete your smile—ready in a later appointment.
Same-Day Dental Implants for Instant Confidence
This temporary crown will quickly get your life back to normal. Speak without the danger of a lisp. Pose for pictures. Give presentations. Forget about your tooth issue for a while.
If you've been struggling with an empty tooth socket, your bearing and behavior around other people will instantly change after an implant procedure. It's a relief to have your smile back, and you'll be smiling a lot more—and probably seeing a lot more smiles from others.
The Long-Term Plan
After this first appointment, we won't need to meet again for some time. Go about normal life, and brush and floss your teeth like you normally do.
Behind the scenes, your jawbone will make the implant root part of your jaw through a natural process of integration. The tooth implant will become more and more stable and permanent.
We'll ask you to come to one or more follow-up appointments to ensure the process is going as planned. Then, we'll replace your temporary crown with your permanent crown (after three to six months).
How Much Do Same-Day Dental Implants Cost?
A same-day implant is one of the most convenient tooth replacement options available. After decades of experience, we have compressed the dental implant process as much as possible.
Every new tooth or set of new teeth is unique, differing based on the choice of materials, insurance coverage, and other factors. The price comes in a wide range depending on these details.
Call Silverdale Dental Center To Schedule Your FREE Same-day Tooth Replacement Consultation!
If dental surgery makes you nervous, don't worry! We focus on comfort and care at Silverdale Dental Center. We'll make you feel welcome, and we'll keep you free of pain throughout the tooth implant process.
So, get a FREE same-day tooth replacement consultation. Call Silverdale Dental Center right now for our first available appointment. There's no risk to you, so contact us today.
Benefits of Dental Implants
The dental implant process has a very high success rate, and each implant can last a lifetime. What other advantages do dental implants give you in your everyday life?
At our Silverdale office, we're all about promoting your dental health in a patient-first, heart-centered setting. Contact us if you need a brand new tooth that completes your unique smile.
Increased Confidence With a Natural-Looking Smile
Dental implants make a lot of our patients feel great! When you've been struggling with an empty tooth socket, it feels wonderful to know that your implant is as solid as a natural tooth root.
Your dental specialists at our office will use your new implant to make your smile look natural. Pose for every picture, smile at every new acquaintance, and laugh without reservation. Your smile is back!
Natural Tooth Color
We customize each new dental bridge or crown from quality materials, such as zirconium and porcelain. We carefully choose tooth replacement options that look natural in color and shape.
Other people won't be able to tell your new teeth from your original teeth.
Natural Fit, Natural Feel
The tooth implant process gives you a replacement tooth root first. This naturally bonds to your jaw, becoming a natural part of your mouth.
We then attach a dental crown to the implant. When you chew, your bite force is supported by the dental implant bonded with your jawbone, just as a natural tooth and root function.
If you need several new teeth, we can place a bridge holding those teeth onto two implants. Or we can place implant-supported dentures on several implants, which feel natural and comfortable—compared to dentures sitting on the gums with denture adhesive.
Eat the Foods You Want Wherever You Want To
A tooth implant can give you more options in your diet. A missing or damaged tooth limits your food choices, cutting out crunchy, sticky, and hard foods.
Traditional removable dentures can also sometimes limit your diet, but the implant procedure gives those choices back to you. An implant can't pop out when you eat sticky food, and it won't break. You'll be able to eat your favorite foods again!
Consult your family dentist and dental hygienist about the foods and routines that are best for you—and eat a wider variety of nutritious foods with dental implants.
Improving Smile, Confidence, and Self-Esteem
Your smile is one of the features that defines who you are, how you interact with people, and what you think of yourself. Let's improve and protect your smile for the long term, and give you back the ability to eat, laugh, and socialize without reservations.
Preventing Tooth Shifting With Dental Implants
When you have an empty tooth socket, other teeth slowly drift into that space, but a new tooth stops that process. When we replace one tooth we are also protecting your whole smile.
Steer Clear of Gum Disease
An empty tooth socket is a magnet for bacteria and possible infections. A socket can be tough to clean thoroughly, especially if it's in the back of an arch of teeth.
Gum disease is something you want to avoid! It causes unstable teeth, bad breath, and even poor health in other parts of the body because it is linked to the spread of bacteria.
An implant and new tooth cover can protect the socket, helping you prevent gum disease—along with regular brushing, flossing, and dental cleanings.
Encouraging Bone Regrowth and Preventing Further Bone Loss
The loss of a tooth actually causes the bone underneath it to waste away. The body senses the bone is not needed and starts to reabsorb it.
This leads to facial sagging—a diminishing of facial structure—as the jaw bone shrinks.
But here's the great news: A dental implant preserves the bone and prevents bone loss and deterioration. This naturally strengthens the jaw and can even make your face look more youthful!
Call Our Office Today for Your FREE Dental Implant Consultation
If you have a missing tooth or teeth, you need a FREE implant consultation. We'll lead you comfortably through the dental implant steps at our patient-first dental clinic.
Ask any questions you have, and we'll help you replace your missing teeth.
The result: If you're a candidate, you'll be able to get a beautiful new tooth all at one convenient dental practice. Call now to schedule your free consultation at Silverdale Dental Center.