Implant-Supported Dentures Combine Stability With Affordability
When traditional implants are not the right solution for your unique needs, whether due to budget constraints or bone volume deficiency, implant-supported dentures can beautifully replace a full arch of missing teeth. Using only a few strategically placed implants, our doctors can use a ball-retained or bar-retained method to keep your removable dentures in place.
You Don't Have to Wait With the All-On-4® Treatment Concept or Teeth-In-A-Day™
Immediate replacement of missing teeth is often recommended, but with some restoration methods, treatment is performed in phases that may require you to go without teeth for a period of time.
Our Silverdale Dental Center dentists realize how devastating tooth loss can be to both your health and your self-esteem, so we offer same-day dental implants with All-on-4® treatment concept dental implants or Teeth-in-a-Day™.
Benefits of Fixed Denture Implants at Silverdale Dental Center
Even if you end up choosing other tooth replacement options, we want you to know about the advantages of implant-supported dentures, including:
Cost Efficiency: Instead of using 10 dental implants, we often use the All-on-4® treatment concept, which places a new set of teeth on just 4–6 implants, lowering dental implant costs.
Natural Look and Feel: Your dentures will follow the natural contours of your mouth, looking great, as well as feeling like you're chewing with natural teeth.
Lasting Nearly a Lifetime: Your implants can stay with you forever, and your dentures can last decades with good maintenance.
Quick Recovery: After your implant surgery, you'll be able to use your new teeth almost immediately.
Better Nutrition: As family dentists, we care about your overall health. Implant-supported dentures help our patients eat a wider variety of healthy foods.
Support your own dental health by brushing your teeth just like you always have. It's easy and convenient—you don't have to take them out at night.
How the All-On-4® Treatment Concept Works
The All-on-4® treatment concept relies upon the strategic placement of four or more dental implants. These implants will serve as a secure foundation for your custom-designed prosthesis. The implants are placed in a manner that takes advantage of existing bone density, and in fact, implant posts preserve the bone you already have.
After your dental specialists complete your dental surgery, we'll attach a great-looking set of dentures to your implants immediately. This process uses a different type of implant so that we can give you new teeth immediately.
However, follow the instructions we give you at our office. By limiting your diet at first, you'll allow your jaw to bond to your implants and become strong and stable for the long term.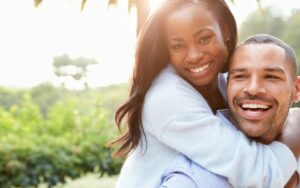 What Happens When I Decide To Receive Fixed Implant Dentures?
You'll first get a professional exam at our dental clinic, including dental x-rays. We'll make sure implants are safe and effective for you.
We'll discuss the dental implant process and answer any questions.
At the surgery visit, we will install 4 or more implants per arch. Next, we'll attach your fixed dentures and make sure they look great. Finally, we'll send you home with instructions on how to make your new dentures a success.
All-On-4® Treatment Concept vs. All-on-X: What's the difference?
The All-on-4® treatment concept often only requires four implants. However, some patients need a different amount, which is what the X is for—to designate some other number. We'll use the same process, but we could use anywhere from four to six implants.
Why Are Denture Implants from Silverdale Dental Center Better?
When you come to our dentist's office in Silverdale, we look at you through the lens of our mission: to deliver high-quality dental services in a heart-centered, patient-first environment.
We put your health and safety above all—above our own profits. We do everything to be reliable and honest toward you. We've practiced here for 48 years, and want to be here for at least 48 years more!
Tooth Implant Cost for Fixed Implant Dentures
The All-on-4® treatment concept saves money. Instead of paying for ten implants, you're often only paying for four. This leaves you more money for other dental care needs.
When you need a complete smile makeover, a full set of dental implants can seem very expensive, but the All-on-4® treatment concept can lower the price by around 60%.
If you have a chat with our team, they can call your insurance company for you or help you understand our payment options. Let's make sure you get the smile you deserve.
Teeth-in-a-Day™ for an Instantly Beautiful Smile
Teeth-in-a-Day™ same-day dental implants are also referred to as immediate load implants because you do not have to wait weeks or months after implant placement to have your teeth. A natural-looking prosthesis is anchored to your implants immediately after placement for a stable, comfortable hold.
When You're Ready for Permanent Implant Dentures, Contact Us for a FREE All-on-4® Treatment Concept Consultation
If you call Silverdale Dental Center and let us know you're interested in the All-on-4® treatment concept, we'll give you a free consultation. Call now to find out if you could have a new smile that will last a lifetime!