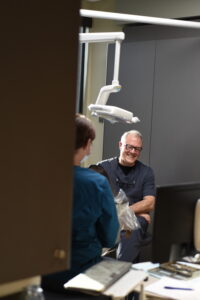 Periodontal disease, also known as gum disease, is one of the most common oral hygiene infections. This disease targets the tissues that surround your teeth, causing them to gradually loosen and even fall out without proper care.
Fortunately, periodontal disease is both highly treatable and preventable. We here at Silverdale Dental Center are here to do both, and offer multiple treatments and solutions to improve your gum health!
What Are the Signs of Gum Disease? Why Do I Have Such Bad Breath? What Causes Gum Disease and Periodontal Disease?
Bad breath is one of the symptoms of gum disease. Chronic bad breath, (halitosis) is caused by bacterial deposits that standard brushing or flossing can't get rid of.
Every day, you collect bacteria in your mouth. While proper dental hygiene gets rid of most of this bacteria, some of it remains behind, especially in the small nooks and crannies between teeth.
Bacteria buildups eventually form into a film called plaque, which in turn will harden over time into tartar or calculus. Tartar builds up above and below the gum line, making teeth harder to keep clean and irritating the gums. If left untreated long enough, the gums can become inflamed, infected, and painful.
It is estimated by the CDC that 47.2% (nearly half!) of all Americans over the age of 30 suffer from some form of periodontal disease. If you suffer from these symptoms, contact Silverdale Dental Center for periodontal treatment today:
Lingering bad breath or taste, even after brushing your teeth
Swollen, tender, bleeding, or irritated gums
Loose or sensitive teeth, especially those with gums that are pulling away
Difficulty chewing or closing your mouth entirely
Why Should I Visit Silverdale Dental Center for Treatment for Gingivitis and Periodontitis?
Gingivitis and periodontitis are just two of several stages of gum diseases that we treat here at Silverdale Dental Center. Failure to treat these conditions can not only lead to extensive gum and jaw pain but the deterioration of bone which can result in the loss of your teeth.
Silverdale Dental Center has multiple treatment options to prevent and recover from periodontal diseases.
Gum Disease Treatment at Our Dental Office
Scaling and Root Planing
Scaling: For early cases of gingivitis, we can treat the gum infection by removing bacteria around the base of the teeth; this process is called scaling. Using special tools, we'll gently remove hardened tartar and plaque around the teeth and into the gums.
Root planing: This procedure involves following those patches of tartar into the gums around the roots of each tooth. This is a much deeper cleaning process that may leave your gums feeling slightly tender, but free of bacteria and infection.
Healing from this procedure is quick. You'll be able to return to normal activity almost immediately, though our dentist may recommend you avoid eating for several hours.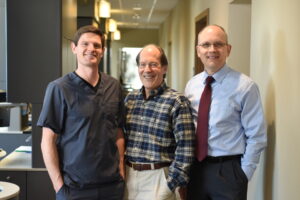 Restore the Health of Your Gums and Bone
When you make an appointment for treating gum disease at Silverdale Dental Center, this is more than just a deep cleaning; it's a fresh start on your oral health! Gum disease can be devastating for periodontal and bone health if left untreated, but once your scaling and/or root planing treatment is underway, it's like starting over!
Immediately, your gums, teeth, and jaw can start the recovery process. Just be sure to be diligent in your oral hygiene routine to help keep the infection from returning!
At-Home Gum Care
Bacteria is always present in the mouth and must be cleared away with regular brushing and flossing. Once the mouth has a history of gum disease, it is more likely to develop infections and must have deep cleanings at regular intervals to prevent anything from worsening.
We offer periodontal maintenance to ensure the health of all smiles. We enjoy educating patients about better brushing techniques, effective mouthwashes, and other ways to maintain oral hygiene and reduce the risk of periodontal disease.
What Are the Dangers of Not Treating My Gum Disease?
You may believe that gum disease will only affect the gum tissue, but advanced periodontal disease and infection will also cause the bone and connective tissues that support your teeth to pull away, or recede. Gum recession leaves your tooth surfaces more exposed and therefore vulnerable to decay. Periodontitis will only worsen without professional dental intervention—please don't wait if you think you may need treatment.
Periodontitis, the most advanced form of gum disease, has been linked to health problems in other parts of the body such as:
Heart disease
Diabetes
Respiratory disease
Rheumatoid arthritis
Tooth loss
Periodontal treatment is an important component of a healthy, beautiful smile, but also significantly impacts our overall health. Silverdale Dental Center offers comprehensive periodontal services to keep you looking and feeling your best.
Get Excellent Periodontal Care at Silverdale Dental Center!
Fortunately, Silverdale Dental Center offers multiple treatment options to counteract periodontal infections. From preventive care to gum therapy, we are prepared to rejuvenate and maintain your oral health.
To learn more about maintaining your gums and oral hygiene, contact us today and schedule your next consultation.