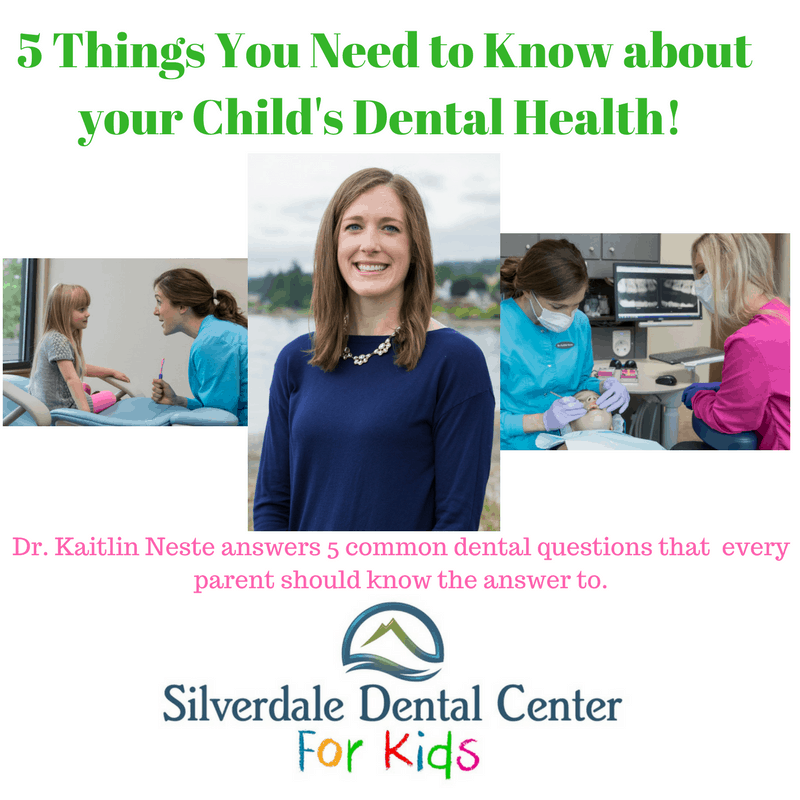 Dr. Kaitlin Neste, Silverdale's favorite pediatric dentist, answers the 5 most commonly asked questions about keeping your children's teeth healthy.
When should my child have his or her first visit to Silverdale Dental Center?

The American Academy of Pediatric Dentistry recommends a child have their first dental visit 6 months after their first tooth erupts or by the first birthday, whichever comes first! Parents should always feel welcome to bring their child to the dentist before then if they have any questions or would like tips on helping keep their child's mouth happy and healthy.  At the first visit we will discuss proper hygiene techniques, diet recommendations, injury prevention and evaluate the child's dental development.  This is a great time to get your child comfortable at the dentist and build a positive relationship for a lifetime of healthy teeth!

What kind of toothpaste should my child be using?

I recommend any toothpaste that contains fluoride. A good way to tell if your toothpaste contains fluoride is to look for the ADA seal of approval.  Fluoridated toothpaste comes in multiple different flavors, mint, bubblegum, strawberry, the list goes on!

Why are my child's permanent teeth coming in behind his baby teeth? Is something wrong?

This is SUPER common and one of our most frequent calls from parents. The developing permanent tooth buds off the developing baby tooth towards the inside of their mouth.  Usually during eruption, the permanent tooth will drift under the baby tooth and resorb the baby tooth's root as it erupts.  Sometimes the tooth doesn't drift completely under the baby tooth before it begins its eruptive process.  This is when you see a permanent tooth behind the baby tooth.  As weird as it looks give it time, the baby tooth usually becomes loose in the coming days to weeks and will fall out naturally!

Why does my child have so many cavities?

Cavities happen for many reasons and as much as we want to it is tough to pinpoint the exact cause. For a cavity to form 3 things must be present, the tooth, cavity causing bacteria, and food for the bacteria.  Thorough brushing and flossing will decrease the cavity causing bacteria's presence in the mouth and can decrease the risk of cavities.  Limiting sugary food consumption can also decrease a child's risk of cavities.  Cavities progress nearly twice as fast in baby teeth compared to permanent teeth.  The good news is by restoring teeth with cavities, improving oral hygiene, and providing some dietary guidance we can help decrease the number of cavity causing bacteria in a child's mouth allowing the permanent teeth to remain healthy and happy!

Why does it matter if my child sucks her thumb?

Early in life thumb sucking provides comfort to the child and is a normal behavior. When thumb sucking begins to become ae problem from a dental prospective is when it lasts beyond age 3.  We have numerous tips and tricks to help your child stop thumb sucking, come on in and ask!