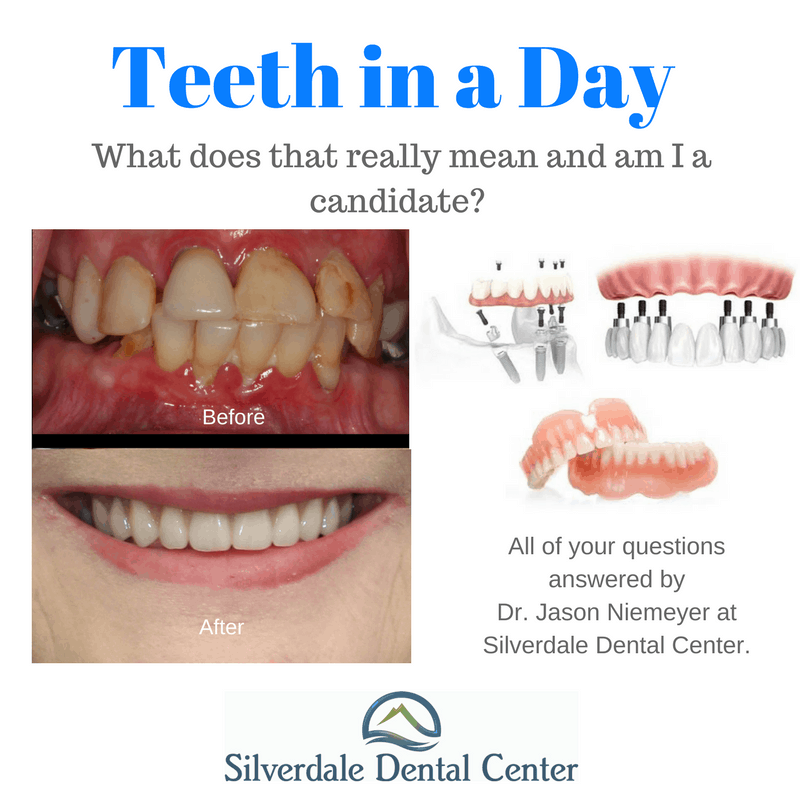 What does "Teeth in a day" really mean?
Dr. Jason Niemeyer: "Teeth in a day" is a popular phrase that you may have heard recently in an ad or TV commercial.  The basic concept of "Teeth in a day" means that a patient can have teeth removed and replaced all in one appointment.
Why would someone need to have all of their teeth removed?
Dr. Niemeyer: There are many patients in need of full-mouth rehabilitation and we are fortunate enough to be able to provide that much-needed service here at Silverdale Dental Center. Many factors can cause the breakdown of teeth over a patient's lifetime. Some of them include decay, chronic gum disease, trauma or even genetic disorders. If you or someone you know have teeth that are broken down or loose and cannot be saved, we are here to help.
What are my options for replacing all of my teeth?
Dr. Niemeyer: There are many options when it comes to replacing teeth and we can provide all of those treatments here at our office. Some of the full-mouth replacement options include conventional removable dentures, tooth supported overdentures, implant supported dentures and in some cases implant bridges that mimic the feel and appearance of natural teeth. Implant bridges are sometimes referred to as an All-on-4 or Fixed Hybrid Implant Bridge. These terms all refer to a type of bridge or denture that is screwed into the mouth and cannot be removed by the patient, making the result feel similar to natural teeth.
How do I decide which option is best for me?
Dr. Niemeyer: All of the options for full mouth replacement have advantages and disadvantages that are carefully considered and reviewed with each patient. Every patient is different and what might work for one person may not even be an option for the next patient. Some of the factors we take into consideration when making final treatment plan are age, medical history, amount of bone remaining  the both the financial and time investment that will be required to complete the case.  The important thing is that each case is evaluated carefully and thoroughly so that we can achieve the best result
Will I have to walk around without teeth?
Dr. Niemeyer: No, we would never expect a patient to leave our office without teeth. In some cases, our patients wear a temporary version of their final teeth in order to allow the mouth to heal after surgery.
How long does this kind of treatment take?
Dr. Niemeyer: The entire process from start to finish can take several months, but in the end, every patient achieves a healthier more beautiful smile that he or she can be proud of.  The work-up to the day of surgery is an important part of the process so that we can achieve the best result.
How long will my new teeth last?
Dr. Niemeyer: Whichever replacement option you choose, your new teeth will provide a second chance at a healthy beautiful smile. That does not mean they will last forever without care and attention. Implants and dentures need to be cared for in the same way that natural teeth are cared for. Daily cleaning and inspection is important. Certain habits such as smoking will seriously compromise the success and overall longevity of your new teeth.
The surgery sounds difficult; do you offer sedation at your office?
Dr. Niemeyer: Each patient's sedation needs are unique. When you come in for your consultation, we will talk to you about the different sedation options we offer here at Silverdale Dental Center. We will make sure that you are comfortable and safe during any surgical appointment. We understand that coming to the dentist creates a lot of anxiety for many patients and we make every effort to accommodate even the most fearful of patients.
What does the final result look like? Will I be happy with my new smile?
Dr. Niemeyer: Take a look at some of the cases I have completed in the past. These before and after photos will give you an idea of what kinds of incredible results can be accomplished here at Silverdale Dental Center. Our team of general dentists and specialists work together to bring you the smile and healthy teeth you have always wanted and may never have thought possible.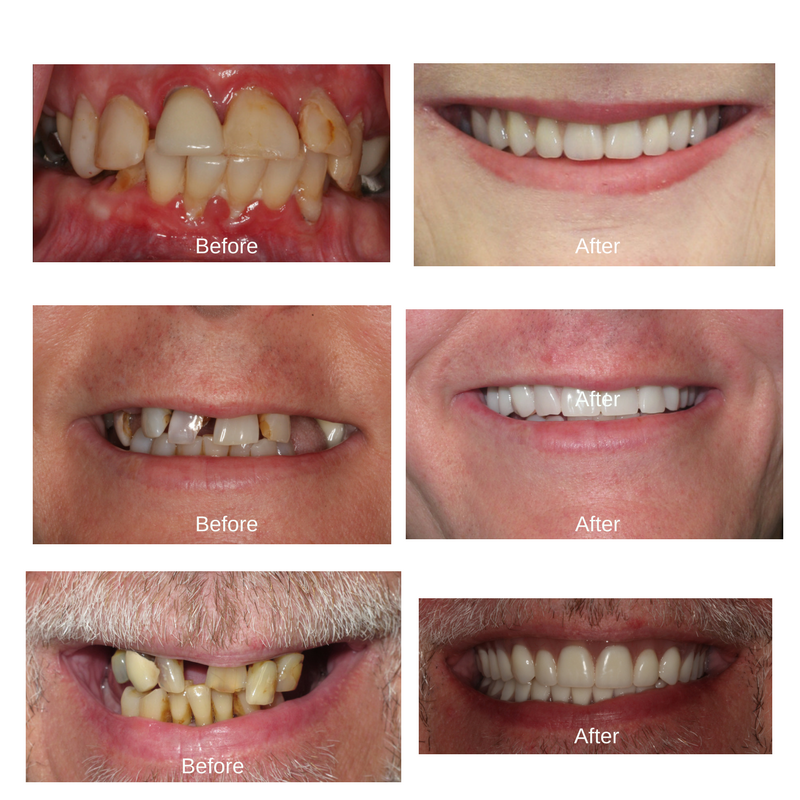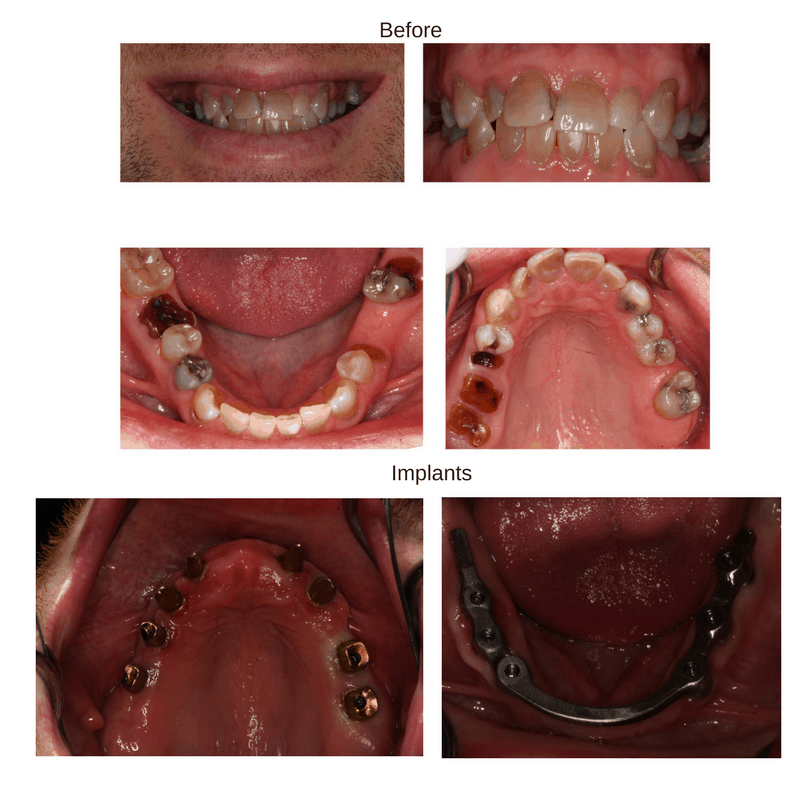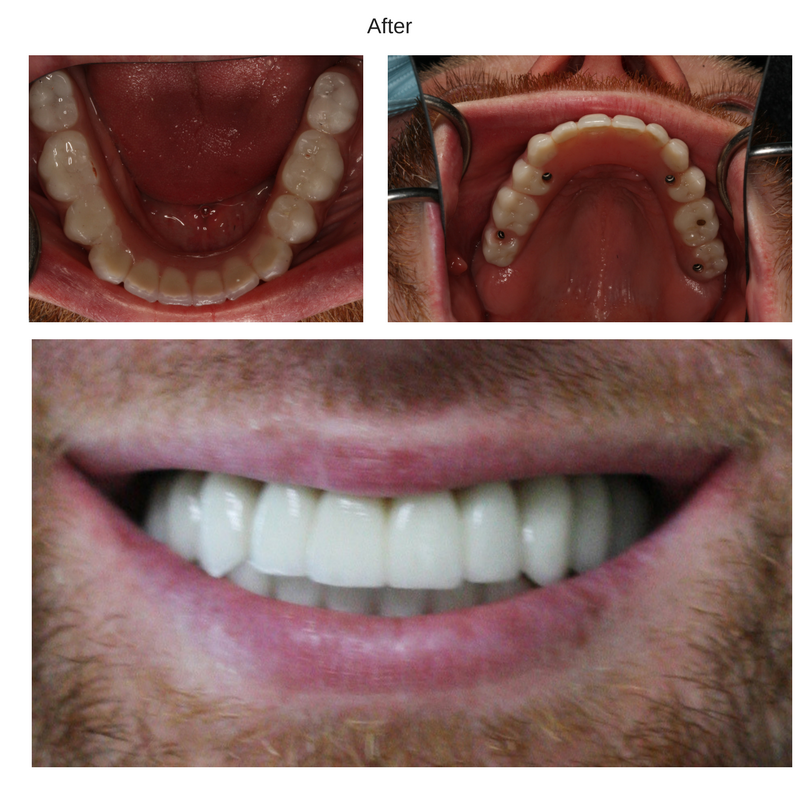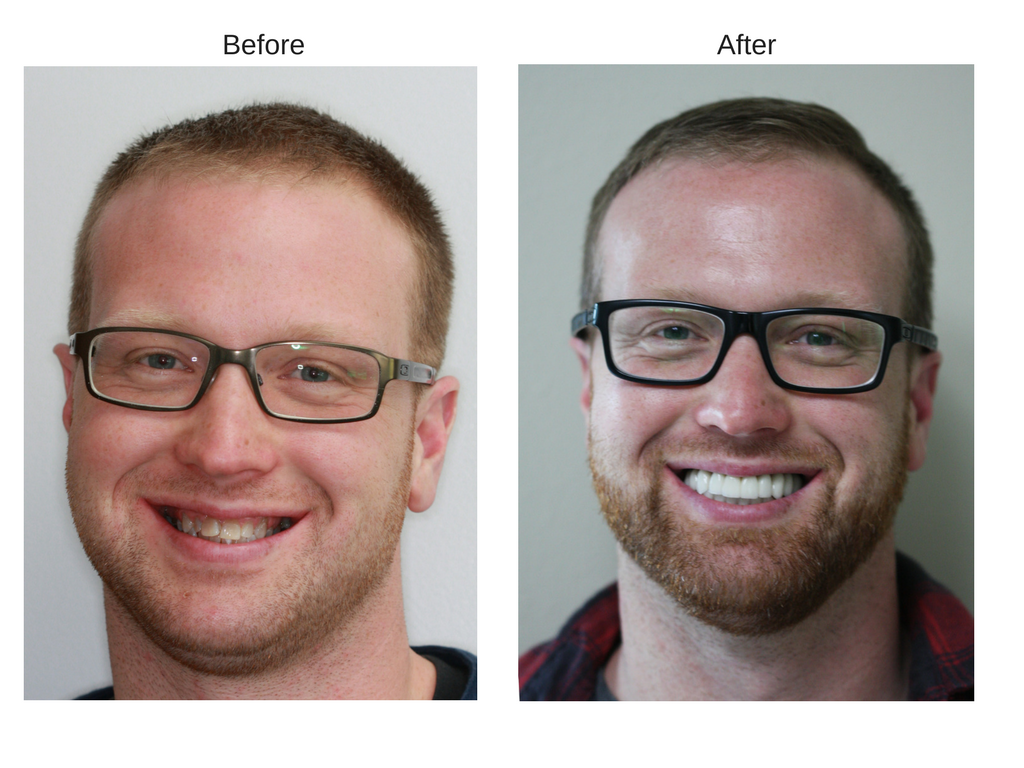 How do I know if I am a candidate for this kind of treatment?
Dr. Niemeyer: To find out if you might be a candidate for this life-changing treatment, call us today at (360) 692-9560 to schedule a consultation.  We will evaluate the current state of your mouth, your medical history and any other relevant data to determine what type of teeth replacement will best suit your needs.